ONE Mobile App – Freedays + D&D Phase 4
ONE MOBILE APP – Freedays + D&D Phase 4
<17 October 2022, Singapore> Ocean Network Express (ONE) will expand the Freedays + D&D feature to Phase 4 countries in South Asia, which will be accessible directly via our Mobile App homepage.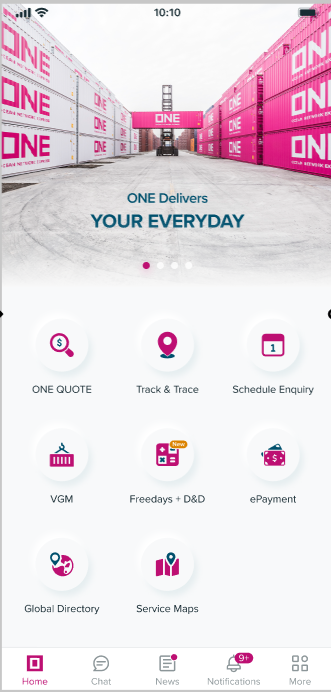 Customers will now be able to calculate the estimated Import D&D cost for their reference. The implementation of this feature is done in Phases: 
Phase 1 (Implemented)
Chile, India, Malaysia, Taiwan, Thailand and Singapore.
Phase 2 (Implemented)
Argentina, Bolivia, Brazil, North & Central China, South China & Hong Kong, Colombia, Ecuador, Indonesia, South Korea, Mexico, Panama, Paraguay, Peru and Uruguay.
Phase 3 (Implemented)
Costa Rica, Dominican Republic, Guatemala, Honduras, Jamaica, Nicaragua, Puerto Rico, El Salvador and Trinidad and Tobago
Phase 3.1 (Implemented)
Phase 4
Australia, New Zealand, Bangladesh, United Arab Emirates and Pakistan.
Our commitment is to deliver valuable features in support of your shipment needs. Please get in touch with your sales representative for any additional information. 
We appreciate your business and thank you for choosing ONE.
Sincerely,
Ocean Network Express Pte. Ltd.